EDIT MAIN
District Nurse
---
Amber Jones, RN
Melody Mack, School Health Assistant
If you have any questions on whether or not their child requires any immunization you may reach out to the school nurse, or call you primary care provider.
Kansas Certificate of Immunizations - Form B - Medical Exemption
Must be completed by a medical provider and returned before September 1st.
The Health Assessment form is a requirement for all students ages 8 yrs and younger entering a Kansas school for the first time. Parents or guardians must present the results of a Child Health Assessment at enrollment. This assessment must be completed within 12 months of school entry or within 90 days after school entry. This also applies to preschool children entering school for the first time.
Welcome to the Health Office Page. I have provided some general information on this page related to nursing and the care of your child.
---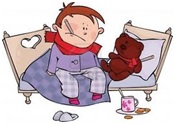 When is my child too sick to come to school??

A problem parents commonly face is when to keep a child home from school if he/she complains of not feeling well. A parent's decision to keep a child home from school when he or she is sick can sometimes be a difficult one. No parent wants to interrupt their child's learning, and for some, keeping a child home means missing work or losing pay. In an effort to help protect our students from unnecessary illness, I urge all parents to consider the following suggestions when preparing to send your children to school.
Please DO NOT send your child to school if you suspect your child may be ill, and has exhibited any of the following signs or symptoms of suspected illness:
has an elevated temperature of 100.4 degrees or more in the last 24 hours.
has vomited (due to suspected illness) within the last 24 hours.
has experienced repeated episodes of diarrhea in the last 24 hours.
has chills, loss of appetite, unusual fatigue, and/or lingering headache.
has a significant amount of untreated nasal discharge, particularly if the discharge is yellow or greenish in color.
has a persistent cough.
has a significant sore throat.
is complaining of severe toothache or earache.
eyes that are painful, red, and matted (yellow or green discharge)
undiagnosed skin rashes /skin infections
a communicable disease
A child may return to school after a contagious disease or infection when:
Conjunctivitis (pink eye) - When eyes are clear and have been treated with antibiotic drops for 24 hours
Scabies - 24 hours after start of treatment
Strep throat or scarlet fever - 24 hours after start of treatment
Impetigo - When skin is clear or child has been under treatment for 24 hours
Head lice - When head is treated and free of lice
Chicken pox - When all blisters have formed scabs
I appreciate your help in making attending school a healthy experience for all our students and staff.
---


Medication
ALL prescription medication must be checked in at the office and a written request from the physician or dentist shall accompany all prescription medication. Medication must be brought in the original bottle dispensed from the pharmacy. Click on the link below for a copy of the form.
ALL over-the-counter medication must have a permission form signed by a parent or guardian. Click on the link below for a copy of the over-the-counter medication permission form. Parents of Middle School and High School students have the opportunity to sign the form on the enrollment card.
Students shall be prohibited to give drugs of any type to other students.
Authorization for Medications/Procedure to be Administered School, Field Trips, and Extracurricular